Shea Body Polish
Free Shipping on Orders $40+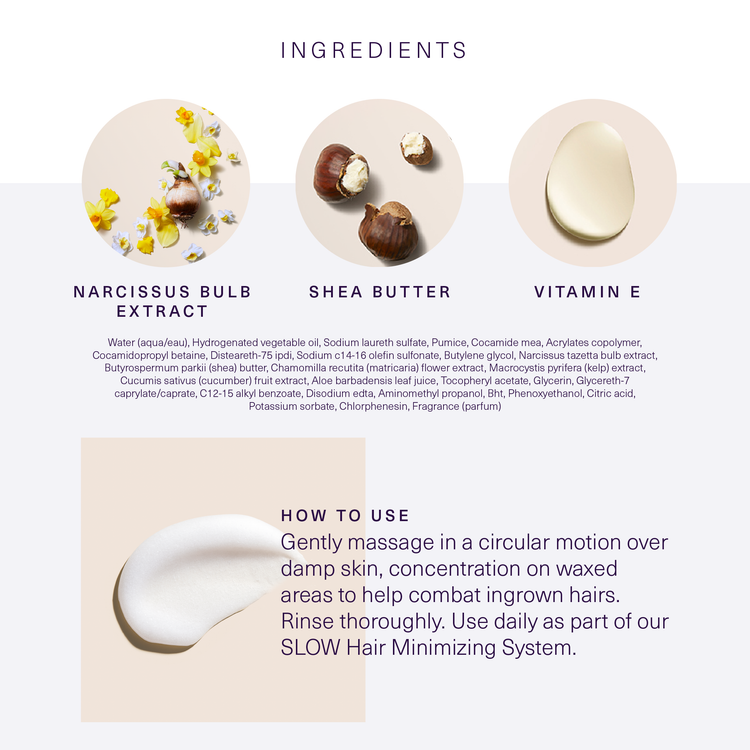 Product Details
Slows. Exfoliates. Refines. ​Keep your skin soft and smooth between waxes with our creamy body polish. Infused with shea butter, known for its skin-hydrating benefits, this product is a perfect addition to your daily skin care routine. This hardworking formula:
SLOWS hair regrowth and helps visibly reduce hair thickness between waxes with naturally derived narcissus bulb extract​

EXFOLIATES with 100% biodegradable beads to deter ingrown hairs and bumps​

REFINES and smooths skin's texture and reveals a radiant glow for a luxurious skin care routine
Dermatologist Tested
Cruelty Free
pH Balanced
Ingredients

Narcissus Bulb Extract

Shea Butter

Vitamin E
How To Use

How to use:

Gently massage in a circular motion over damp skin, concentrating on waxed areas to help combat ingrown hairs. Rinse thoroughly.

When to use: Use daily as part of our SLOW Hair Minimizing System.
DID YOU KNOW THAT THE GRANULATED PUMICE IN OUR SLOW SHEA BODY POLISH IS DERIVED FROM VOLCANIC ASH? IT IS A NATURAL MINERAL THAT WILL NOT CAUSE MICRO-TEARS TO YOUR SKIN.

STACIE, EUROPEAN WAX CENTER FIELD TRAINER & CERTIFIED ESTHETICIAN
Shop by Skin Concern

Treat Ingrowns

Slow Hair Growth

Groom Brows

Exfoliate Skin
Easy as EWC
STEP 1: ENJOY YOUR WAX

STEP 2: YOUR BETWEEN ROUTINE

STEP 3: BOOK YOUR SERVICE