Spring Travel Kit
Free Shipping on Orders $40+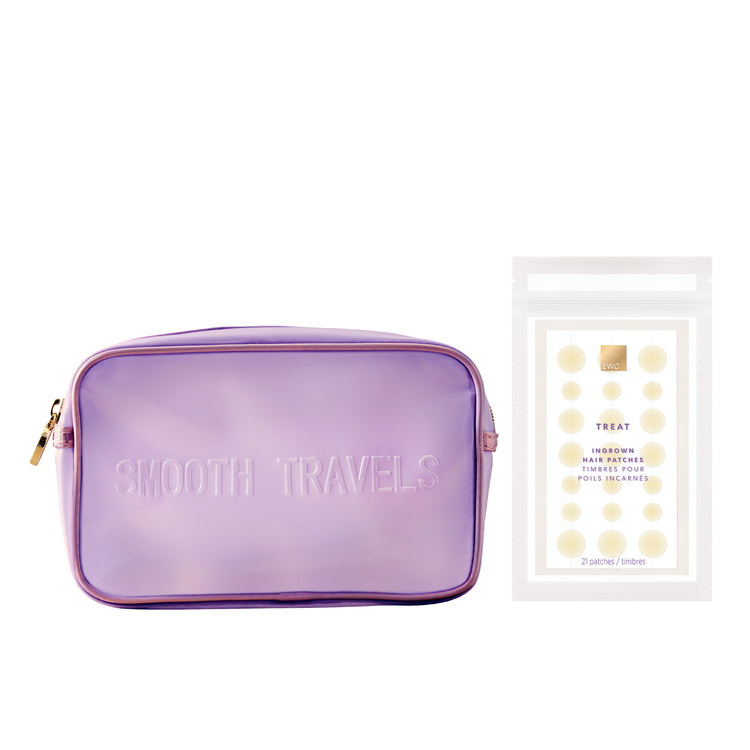 Product Details
Treats. Soothes. Replenishes. Treat pesky ingrown hairs and bumps with our secret-weapon, alcohol-free patches. Each single-use patch utilizes hydrocolloid technology and salicylic acid to help draw out impurities and aide in dislodging buildup. Plus lavender, vitamin E and chamomile to soothe skin.

 Directions: Choose one of our 3 sized-to-fit patches. Select sticker size that fully covers the treatment spot. Apply on clean, dry skin to the targeted area and leave on overnight or 8-12 hours. Sticker will start to turn opaque during use which indicates that it's hard at work. Repeat as often as needed. For pesky ingrown hairs, multiple uses may be required. Can be used immediately after waxing. Store patches in resealable pouch.
21 patches per box: 6 large, 6 medium, and 9 small patches
 Limited-Edition Smooth Travels bag features an iridescent trim and is 8.25" x 5" x 2.5"
Shop by Skin Concern

Treat Ingrowns

Slow Hair Growth

Groom Brows

Exfoliate Skin
Easy as EWC
STEP 1: ENJOY YOUR WAX

STEP 2: YOUR BETWEEN ROUTINE

STEP 3: BOOK YOUR SERVICE